Frequently Asked Questions
Assessment
How does Symphony assess students?
---
The Symphony Math Screener probes for in-depth understanding by using technology-enhanced test items. Symphony assessment problems challenge students to produce multiple correct solutions, demonstrate fluency, graph lines, use measurement tools, and solve for the exact answer, instead of providing only a simple, multiple choice. These technology-enhanced problems require students to demonstrate a deeper level of understanding to produce correct responses. The Symphony Math assessment adaptive testing engine dynamically locates each student on a standardized scale of mathematical ability. The test is based upon an item bank of 900 test items that were specifically designed to measure progress against the Common Core State Standards (CCSS) for Mathematics. Assessment test items have been calibrated and organized on a scale of low difficulty to high difficulty; the program applies Item Response Theory algorithms which move the student to an easier item after an incorrect response, and to a harder item after a correct response. Each student begins the assessment with an item that is two years below the student's enrolled grade level. Depending on the student's pattern of correct and incorrect responses, the test items will become more or less difficult. A student may see between 18 and 24 assessment items during a testing session. The assessment ends after it has seen enough responses to determine the student's location on the standardized scale of CCSS mathematics ability.
---
What does the assessment look like?
---
Questions are age appropriate and scaled. Here are a few examples: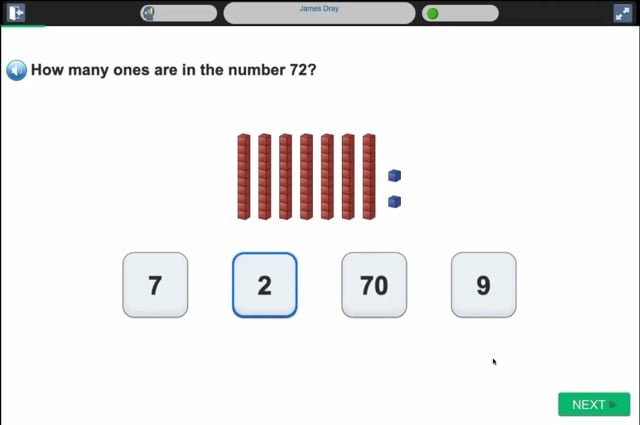 ---
How are students placed in the program?
---
The Symphony Math program includes a fully-integrated assessment. Assessment results from the first assessment taken during a school year are used to assign students to specific grade-level content. This document outlines the details of this feature, named Automatic Placement. The Screener/Benchmarker Assessment
Students start their work each school year with a 20-minute (avg. time) math assessment. The self-administered assessment approximates each student's math ability in relation to their peers at that time of the school year. The assessment results can help identify students who are at risk for math failure, and the assessment will be given three times during the school year to confirm the assessment results and track student growth. Each student score on an assessment is translated into a percentile rank. A percentile rank tells what percentage of students in a specific group received lower scores than the student in question. The range is from 1-99. Each student's score corresponds to a percentile relative to the distribution of other students' scores in the same grade, for a particular month. The percentage of scores at or below a particular value defines scores' percentiles. Students with score percentiles near 50 are at the average for the month in which the assessment was taken. Lower percentiles indicate slower overall growth, while higher values indicate accelerated overall growth relative to the nation at large. Automatic Placement
After the FIRST completed assessment of each school year, Symphony Math assigns content based on the student's percentile rank. Students with low percentile ranks are assigned material well below grade level, while students with higher scores start slightly below grade level to allow orientation, but will quickly reach grade level content. The student's Game Board screen will reflect this automatic placement. The results of Automatic Placement are also shown in each student's Settings panel in your online Administration Panel. At the Students list, press a student name to see their Settings. In the Scope & Sequence section, content that was activated will be marked with a blue dot.
Each student's automatic placement is also reflected in the Teacher Dashboard. In the Use and Progress table, the Progress to Goal grid shows deactivated Stages in gray, available Stages in white, and completed Stages in blue:
The table below shows the Automatic Placement assignments for students in different grade levels at different percentiles:
Pace of Instruction When students work on content that is below their assigned Grade Level, they can move very quickly through material in which they demonstrate consistent mastery. (We call this branching style 'Placement Mode.') For example, a 3rd grade student who works in the Kindergarten Stages (1-5) can move through the entire collection of Stages in 40 tasks (8 tasks per Stage) if they get most of their tasks correct. If they show any signs of struggle, the program will move into branching modes that deliver content at a slower rate, in order to ensure that the student has mastery. As student work with material at and above their grade level, the Symphony Math program provides students with more material so that they get full exposure to all concepts in each Stage. (This is called 'Skill Mode'.) Students may have to spend additional time mastering the Stages that most reflect the material they see in their grade-level math curriculua. If they show signs of struggle, the pace of instruction will slow down more, and students will see leveled material ('Focus Mode') that scaffolds them to mastery in the current skill. Additional Notes Automatic Placement replaces students' former settings unless the 'Automatic Placement' setting is turned off in either the District/School Settings page or the Student Settings page. Automatic Placement does not delete any previous student records or progress. Students may have earlier Stages active, but will not see that material if they completed the work during the previous school year. Past performance data can be viewed in the Instruction->Individual Student->Daily Progress report by selecting previous year's dates from the Calendar icon.
---
---
Using Symphony Math
How do I know if a student is struggling?
---
Symphony will flag you in your class dashboard. You'll see an orange bar that tells you how many students are struggling at the top of the dashboard. Scroll down to the help tab, and you'll see lessons and details for each struggling student.
You will also receive an email letting you know you have struggling students. Names are not used to protect privacy. You'll see "one of your students needs HELP", with directions for accessing the 1:1 lesson for that student.
---
How do I help my struggling student?
---
Scroll down in your dashboard to the "Help" tab. This will show you exactly where your student is hitting difficulties, and give you a 1:1 lesson to address the issue. You can also click one of the red or yellow balls to see which problems your student encountered & couldn't move past. A great way to assess your student's understanding of the problem is to have them work on the problem with you so you can see how they are thinking.
---
Why math journals?
---
When students complete a Stage of Symphony Math, they come to a Checkpoint. Checkpoints are opportunities for knowledge transfer, and give both students and teachers a chance to use mastered skills in a different context. For example, in Stage 1, students complete tasks that involve the representation of numbers as concrete objects, such as dot cards and number bars, and also as points along a number line. When they have completed their work, students are prompted by Symphony Math to record their new skills in an offline journal. They see a series of screens that prompt them to draw some of the material they have mastered in their journals (or pieces of paper that you can organize). Students receive other prompts to create models in their journals as they use Symphony Math, especially when they show signs of struggle with a particular concept or visual model. As time passes, educators and parents have a growing window into students understanding of math. Journals provide an opportunity to 'pause the action' and confirm mastery of important skills that are critical for success. Educators can use this material to help make instructional decisions, show parents examples of student math thinking, and to document student growth in math ability. Here's an example:
---
How do I use the checkpoints with math journals?
---
Math Journaling with Checkpoints Symphony Math incorporates math journaling into the student experience. When students complete a Stage of the program, prompts encourage them to copy some of the visual models they used during their work, and even create their own examples, in their journals. We call them 'Checkpoints.' Checkpoints provide students a opportunity for reflection and transfer, and can be a powerful tool for growth. When students are done with a Checkpoint, it's your turn to view their work and make sure they are ready to move forward in the Symphony Math curriculum. Here is a short checklist to guide your evaluation of each Checkpoint: - Have all Checkpoint steps been attempted? - Does the student demonstrate understanding of their number models? - Is the student work accurate? If not, can they self-correct when questioned? - Can the student talk about their work using mathematical language? This video gives a brief overview of Checkpoint 1:
---
Where can I find the teacher codes for the checkpoints?
---
The checkpoint codes are in three places in your dashboard. 1.In your classroom view, you will see a list of all students who need their checkpoints toggled. If there's not a toggle switch, there are no students currenty needing to move to the next stage.
If you open your support tab, there are two places to see the checkpoint codes. 2. A complete list of codes is under teacher links:
3. On the right side of the support tab, under the scope & sequence - open a stage and scroll down to find the code for that stage:
---
For how long and how often do you recommend that a student use Symphony Math?
---
The overall recommendation for use is at least 45 minutes per week. We recommend 15- to 20-minute sessions three to five times a week. We recommend that students not be permitted to use the program more than 30 minutes in any one day, as it may affect their attention level and lead to unnecessary work in the program.
---
Is Symphony appropriate for older students?
---
Yes, Symphony Math may be used with older students. The program is designed with an age neutral interface that does not use cute cartoon characters or childish themes that make older students feel the program is inappropriate. Symphony Math addresses fundamental math skills that struggling students need to master in order for mathematics to be meaningful. The program has been used with middle-school and high-school students in remedial settings.
---
Adaptive Branching in Symphony Math
---
Symphony Math uses a dynamic branching engine that allows students to learn at their own levels. As students work in the program, they complete tasks that are judged as a 'best fit' for their ability. In this way, the program is constantly adjusting to the needs of each learner, and ensures that students work on material until they achieve full mastery. Task Groups Symphony Math is organized into groups of 8 tasks, called Task Groups. Each task in Symphony Math involves the completion of a mathematics task using models, symbols, or a combination of both. Task Groups attempt to give students the best possible tasks for each student. Each time a student completes a Task Group, the Symphony Math branching engine re-evaluates the student and provides a better match for their needs. The three main types of Task Groups are:
The demonstration mode of Symphony Math shows a nice visualization of the task group types:
Adaptive Branching As students work in Symphony Math, they move in and out of the above Task Group types. When they struggle, they move horizontally or stay in the same tasks groups shown above. Remember that each blue area above represents 8 tasks at a particular level of difficulty. When they show mastery, they move down or to a more difficult task group. Let's look at some examples of branching in action. Example 1: The 'Fast-Mover'
The report shown above shows a Student Daily Progress report for a student's session of use. The icons on the right side show student performance in each Task Group, with the most recent progress on top of the screen. The Green icons are tasks solved correctly the first time. In the session shown above, the student completes Stage 6, and also shows mastery in Stage 7. The branching engine determines the student should move directly to the next Stage (8), which the student begins. Also note that the student doesn't complete their work in Stage 8. This is okay - the program will pick up where they left off at the beginning of the next session. In just 13 minutes, the student completes a large portion of the grade 1 curriculum. While this is atypical, Symphony Math works to find the challenge level for every student, and, especially in the early weeks of use, some students will move through Stages very quickly. Example 2: Finding a Focus Area
This report shows a much more typical example of student progress. In this Stage, the student moves through the skills of Place Value Addition (Missing Result and Change) and Subtraction: Missing Result very quickly. However, they encounter Struggle when they reach the skill Place Value Subtraction: Missing Change. The branching engine moves into Focus task blocks, where the student will remain until they demonstrate mastery. Notice how each task block at the end of the student's session (top) ends after only a few tasks. When a student struggles, we don't need to give them all 8 tasks in a group to know that they can't move forward. Instead, the student sees a message in the Symphony Math program that lets them know they need to show more mastery before they can move forward:
Using Branching History to Help Struggling Students The dynamic branching of Symphony Math® allows students to learn at their own levels. As the program illuminates an area of need, progress slows until the student achieves the necessary understanding. Students will move in and out of different branching modes as they work through the program. If they are challenged, and remain in a Focus Group for multiple attempts, they will be flagged in the 'HELP' data view on your Symphony Dashboard. In the second example above, the teacher would see the student's need in their HELP data view. The data view shows that Sara Torres has tried the task group 8.4.1 four times ("Tries") without achieving a passing score (85% or better).
When a student needs help, a specific set of Guided Practice worksheets will be recommended. The Symphony Dashboard presents a direct link to this resource, and also provides other resources that can help you intervene and help this student. Have a conversation with students about the material in the Guided Practice sheets, or have them work with other students who may also be struggling with the same skill. Small group or 1:1 instruction can help illuminate misconceptions and lead to greater understanding. Every Student Journey is Unique! Students take different paths to achievement. Student 2 may need much more time in Symphony Math in order to complete the curriculum. This is appropriate for the student's ability, and they should be encouraged to use Symphony Math more often, and rewarded when they master Stages in which they struggle.
---
Do you have a documentatioin for Symphony Math?
---
You can access the teacher guide, and a vast library of resources through your Support tab in your admin panel.
---
---
Admin Panel
Class Data View: HELP
---
The HELP data view provides teachers with details on students that are currently struggling in the Symphony Math instructional program. When the program slows the pace of instruction as much as possible, and students cannot achieve mastery, they appear in this data view. A wealth of information is available by pressing the different areas of this view.
---
Can I print school-to-home letters in Spanish and English?
---
Yes! If your student has Spanish narration activated, home letters will automatically be printed in Spanish! Here's a video on printing letters to send home: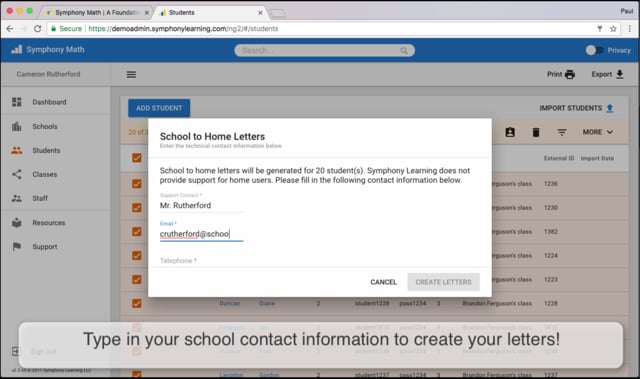 ---
---
Technical Setup
What kind of technology do I need?
---
Symphony Math® is a program that can be accessed on a web browser, or installed as a free app on an Apple iPad. Headsets or earbuds are recommended for all versions. Web Version MacOS 10.6 or newer Safari 6+, Firefox 38+, Chrome 43+
Minimum requirements for all browsers and platforms: HTML-5 Compatible 1 GB RAM Javascript must be enabled Persistent internet connection (2MB initial download, 200K/minute per student during use) Windows Windows 10 or newer Internet Explorer 11+, Firefox 38+, Chrome 43+ Google ChromeOS Chromebook, Touchscreen Tablet Versions iPad that supports iOS v11+ (see full list) 40 MB app download (free) Persistent internet connection (200K/min.) Student Access All students must have access to the following URLs during program use: https://mysymphonymath.com https://content.symphonylearning.com https://student.symphonylearning.com https://assess.symphonylearning.com
---
---
Remote learning
How does Symphony work for remote use?
---
Symphony Math can be used by students at home on either laptops/desktops or via the app on iPads. Internet access is required to use Symphony Math. Administrators have access to their admin panels from home. From their admin panels, teachers can track progress, see students who are struggling, and set parameters for student use. Settings that support remote learning:
What time of day the assessment is available for students
Session length
Available stages
Clearing checkpoints
Extra time for fluency questions
For students who require additional help, offline / printed materials can be shared via online platforms (ie Zoom, Google Meets) for 1:1 intervention lessons.
---
---
Videos
Student checkpoint videos
---
Student Checkpoints: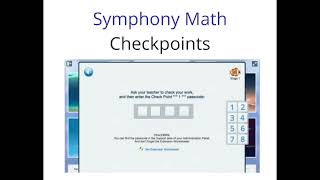 ---
Sample Math Assessment problems video
---
Symphony Math Assessment sample problems: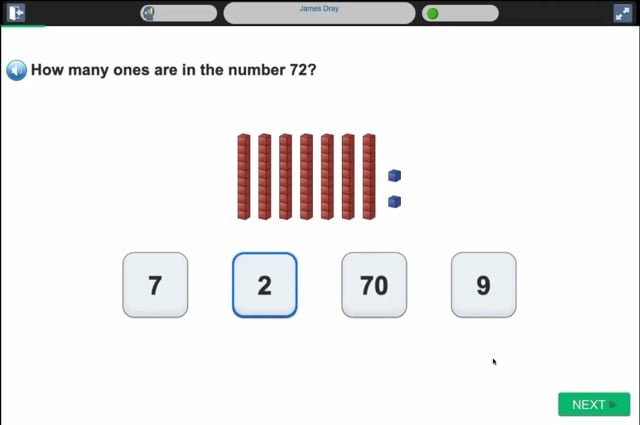 ---
A video that would be helpful for me is.....
---
Please request a video via email! Watching a quick tutorial can make staying up to date / administrative work so much easier. We LOVE making your job easier! Email me: info@successk12.com
---
Do you have any videos made by Symphony users?
---
Yes! How do you get your students excited about math?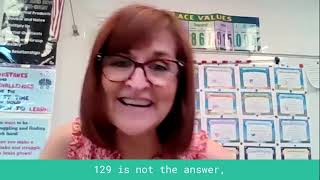 ---
What's the story behind Success K12?
---
I'm glad you asked!! What's the best part of being an educator?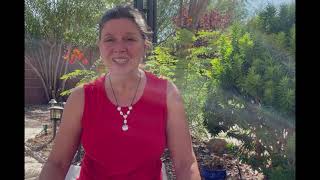 Why Symphony Math?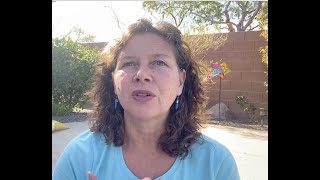 ---
School to home letter video
---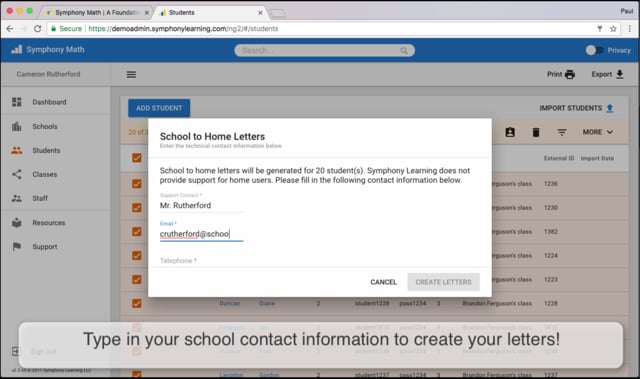 ---
---
Student Program
How does my student log into the student program?
---
Students log in at mysymphonymath.com Your student will need their school ID#, username & password. These are located on the student sign in card. Beginning in Version 8.2.0 of Symphony Math, students can now sign in by scanning their Symphony Math sign in cards generated from the Symphony Administration Panel. Generating Sign In Cards Sign into your Symphony Administration Panel and create Sign in cards. The new cards are designed to look like badges, and could be laminated or put into badge holders for students. A sample sign in card
If you need more help generating Sign in cards, please see this video:
Chromebook/ Mac OS/ Windows QR Code Sign In Go to mysymphonymath.com or open the Symphony Math iPad app (v8.2.2+) and press the blue SCAN QR CODE button:
The student will be asked to grant permission for the page to access your camera. Accept the request, then hold the badge up to the device's web cam. When the code is detected, the student will automatically go back to the Sign In screen, and will be signed in to Symphony Math!
---
Can I adjust the amount of stimulus on the student screen?
---
Yes! You can access the settings for visual and aditory stimulation from within the student portal:
---
---